"All the world's companies and organization need to shoulder their role in the climate challenge, and as a state-owned company, the board sees that Systembolaget should lead the way. Therefore, we have now decided on these ambitious targets to limit the climate impact to the greatest possible extent" says Systembolaget's chairman of the board Göran Hägglund.
The targets
The targets are so-called Science Based Targets:
By 2030, the climate impact of Systembolaget's entire value chain shall be reduced by 50%
This means reduced emissions from cultivation, production, beverage packaging and transportation of beverages as well as from customer trips to and from our stores (Scope 3).
By 2025, Systembolaget will have reduced the climate impact of its own internal business operations by 90%
This means reduced emissions from internal energy consumption and company vehicles (Scopes 1 and 2).
By 2045, Systembolaget is aiming for net zero climate impact
Base line year: 2019
The new science-based targets are based on what is considered necessary to reach the Paris Agreement's ambition to help global warming to a maximum of 1.5oC.
This means that emissions from Systembolaget's entire value chain must be halved by the year 2030. It includes cultivation, production, beverage packaging, transportation and the journeys customers make to and from our stores.
In addition, by 2025 the emissions from Systembolaget's internal operations must have been reduced by 90% compared to the year 2019.
These are interim targets on our journey towards 2045, when Systembolaget is aiming for net zero climate impact.
"I'm proud we have set these tough and necessary climate targets to deliver on. They are ambitious and in order to reach them we look forward to continuing the good cooperation with have with our many suppliers and others. The entire value chain, from cultivation to the recycling of the beverage packaging, affects how significant the emissions become. We bear a great responsibility to do everything we can when it comes to reducing climate emissions in the entire chain" says Ann Carlsson Meyer, CEO of Systembolaget.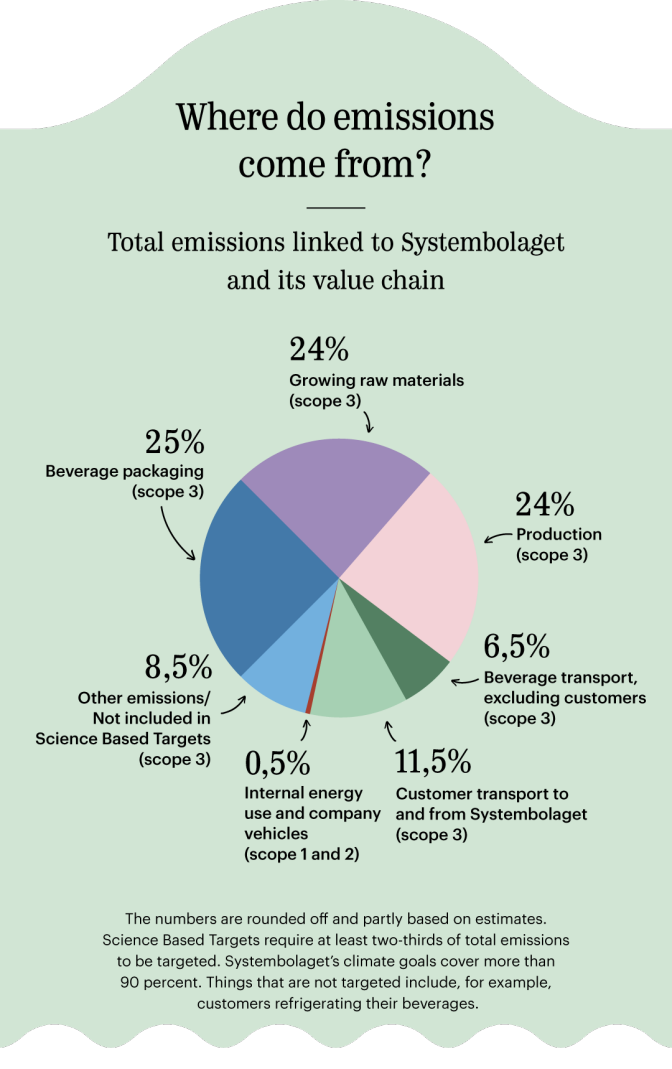 Systembolaget is already implementing a series of measures aimed at reducing emissions of greenhouse gases. For example, reducing emissions from beverage packaging, reducing emissions from the transport of beverages to and from our stores and depots, and reducing emissions from electricity consumption and travel.
But now Systembolaget will enhance the efforts by including cultivation and production as well as international transports and customer transports in the targets. Emissions from heating our stores are also be targeted.
The next step involves getting the targets approved in accordance with the international Science Based Targets initiative. Getting the new climate targets approved is an important milestone for Systembolaget's sustainability strategy.